DBV is a valve group that is at the forefront of innovation.
We are committed to producing the most characteristic valve products with the highest quality but the most affordable price. Recently, through the efforts of all employees, we have the ability to produce the smallest all-metal seated butterfly valve in China. With joy, i share this good news with you and will introduce you the features of this product.
As known to all, in china, the smallest before is DN100 for metal to metal seated triple butterfly valve, now we DBV is the first factory to develop DN80 out for our European customers. Look bellow photos of our DN80 ...
There are some characteristics of our DN80 wholly metal seated triple eccentric butterfly valves as bellow: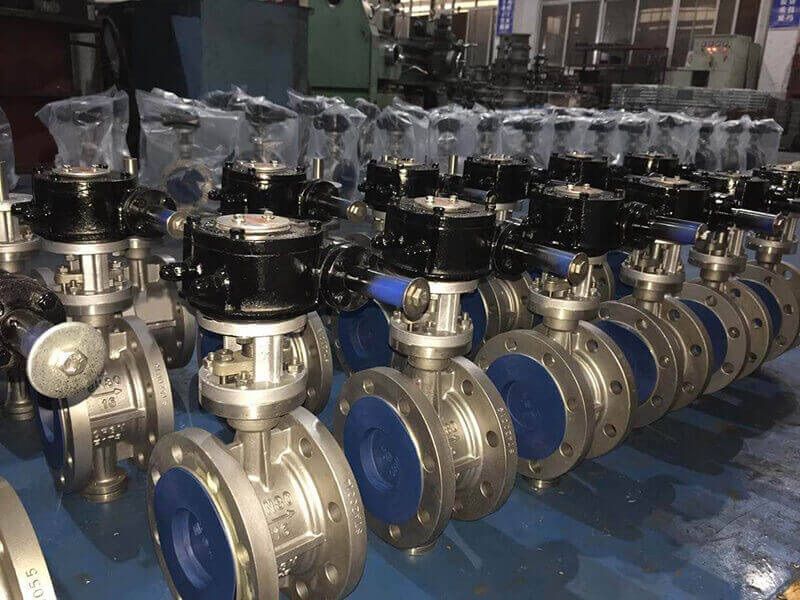 The design of fully metal to metal sealing: The sealing surface adopts the technology of overlaying stellite alloy, which solves the problem of poor butterfly valves sealing performance under the harsh conditions of high pressure, high temperature and low temperature effectively.

The new design of triple eccentricity makes the valve zero friction, more stable performance and longer service life. The compact design ensures that the butterfly valve flexibly opening and closing from low temperature to high temperature. And excellent sealing performance is in full compliance with the seal standard of the valve zero leakage under the harsh condition.

This DN80 butterfly valves are designed with renewable seat and seal ring, which could reduce the cost of user as the valve damage caused by the wear of seal ring.

DBV DN80 fully metal to metal sealing structure is different from multilayer sealing butterfly valve. Common multilayer metal sealing structure consists of the metal sheet and graphite laminated, and multilayer sealing surface is susceptible to fluid erosion leading to short service life. However, DBV butterfly valve adopts all metal forged seal ring, and overlays stellite alloy on the sealing surface. Its advantages are anti-wear, anti-erosion and long service life, etc. DBV butterfly valve is suitable for many poor working conditions such as high pressure and high temperature.
Our DN80 metal to metal butterfly valves fill the gap in the market and can be widely used in Steam, Chemical industry, Power plant, Fossil power plants, Nuclear power plants and so on. If you are interested in this, welcome your inquiry and comments.