DBV Metal to metal ball valves characteristics:
High Temperature Service
General soft seated ball valves working temperature is limited up to 400°F, but metal-seated ball valves are guaranteed for a maximum service temperature of 800 °F.
Low Pressure Reliable Sealing
DBV metal-seated ball valves adopt seat spring structure, which can push upstream seat tightly against the ball surface creating a reliable sealing even if extremely low pressure.
Pressure Test
Metal-seated ball valves maximum allowable seat leakage: Air: ANSI/FCI 70-2 Class V
Absolute Fire Safe Guarantee
YIHUAN metal-seated ball valves are absolute fire safe design. Metal-to-metal contact is designed between ball and seat, where is unconditional fire safe function. Flexible graphite gasket can prevent fluid leakage from between body & seat or body & adapter even if high temperature environments to reach fire-safe purpose. In addition, other sealing components such as stem packing can also reach fire-safe function and prevent external leakage, so all parts of the valve will not be damaged by high temperature service.
Blow-out Proof Stem& Anti-Static Device
As general ball valves, YIHUAN metal-seated ball valves are provided with blow-out proof stem& anti-static device.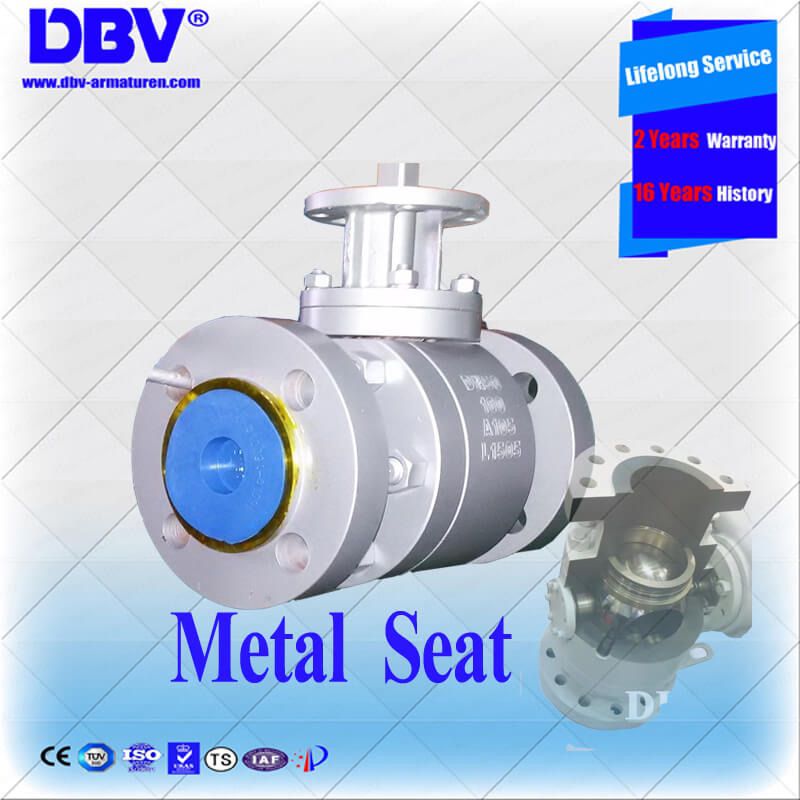 Metal to metal seat ball valve material specifications
| | | |
| --- | --- | --- |
| No. | Part | Material |
| 1 | Body | A216-WCB A352-LCB A351-CF8, CF8M, CF3, CF3M, Duplex |
| 2 | Seat | ASTM A182-F6+STL, 304+STL, F316+STL, F316L+STL |
| 3 | Antistatic Spring | Stainless Steel S.S.316 |
| 4 | Thrust Washer | PTFE PPL |
| 5 | Screw | ASTM A193-B7, B8 |
| 6 | Limited Plate | 1015+Cr. Carbon Steel+Cr. |
| 7 | Lever | A216-WCB |
| 8 | Gland Flange | A216-WCB A351-CF8 |
| 9 | Packing | PTFE Graphite |
| 10 | Stem | ASTM A182-F6, F304, F316, F316L, F304L,17-4PH, F51 |
| 11 | Gasket | Stainless Steel+Graphite S.S.316+Graphite |
| 12 | Ball | ASTM A182-G6+N, F304+N, F316+N, F51+N |
| 13 | Seat Gasket | ASTM A182-F6, F304, F316, F316L |
| 14 | Bonnet | A216-WCB A352-LCB A351-CF8, CF8M, CF3, CF3M, Duplex |
| 15 | Seat Spring | Inconel X-7505 S.S.304 S.S.316 |
| 16 | Seat Sealing | Graphite |
| 17 | Stud | ASTM A193-B7, B7M, B8, B8M |
| 18 | Nut | ASTM A194-2H, 2HM, 8, 8M |