Wholly Metal-to-Metal Seated Triple Offset Butterfly Valves
DBV wholly metal to metal seat triple offset butterfly valves are mainly applied for pipelines ranging 150LB~2500LB/10kg~420kg,-196 ℃ ~ 700 ℃, used for cut or adjust the pipelines, with zero leakage class A, control rate 100:1. After the third eccentricity designed out of the special valve body cone angle, there is no more death area as valves open and close, totally eliminating the bad sealing phenomenon because of sealing wearing, so solving the headache problem of zero leakage to metal seat butterfly valves, with two way flow directions.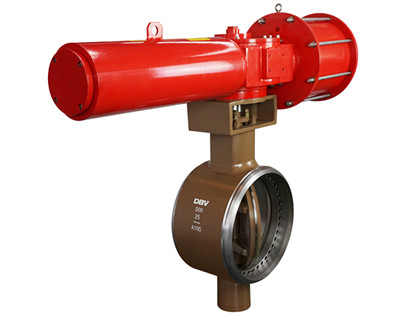 Seat structure:
The seat and body is split designed, convenient for valve maintenance, so if there is broken sealing, only the seat is needed to change instead of whole set of valves, so to reduce the cost. The sealing face is overlaid with hard alloy satellite to be more anti-wearing and anti-rushing.

Sealing ring structure:
The sealing ring structures of triple eccentric butterfly valves have two kinds, mostly is the disc type made of stainless steel plate laminated with graphite, which is short service life as its sealing surface can be easily rushed by flowing media. The metal sealing ring and seat of wholly metal to metal butterfly valves adopts the whole metal forging sprayed with hard alloy STL. Its advantage is anti-rushing, anti-wearing, anti high temperature and pressure, long service life. The disc sealing ring and disc are separated with each other, same as the seat with the body, so the sealing ring and seat is replaceable, that is, when the sealing ring or seat is damaged, people will no more need to take the bad valve back to the factory or separate the valve, just to change the sealing ring or seat, greatly reducing the maintenance time and the repairing difficulty and intensity.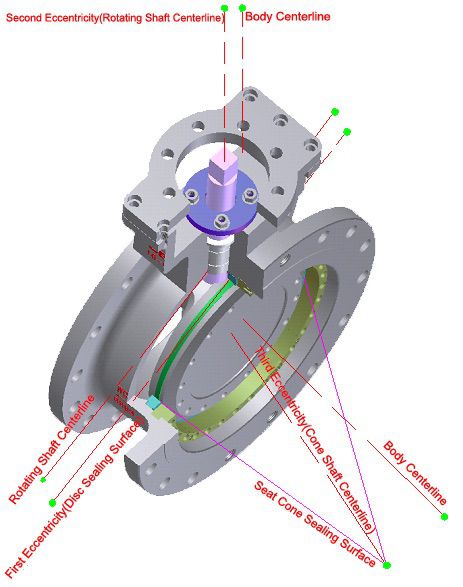 Benefits of the Triple Offset design:
The DBV Butterfly valve design of triple offset valves is the most technologically advanced available, justifying its reputation as the ultimate valve. Its class leading benefits include:
1. Available fully rated to Class 2500lb.
2. Standard materials conform to NACE, all exotic materials also available.
3. Metal seat is mounted in the body, removing it from the erosive effects of the flowing media.
4. Both seat and seal are easily replaceable without special tools.
5. Unique elliptical bolting pattern allows foolproof replacement of seat and seal.
6. Gasket sealing face is completely uninterrupted by fixings.
7. Suitable for use with spiral wound gaskets and all flange finishes including RTJ.
8. Anti blow-out design on stem.
9. ISO5211 mounting flange pad allows easy fitting and changing of operators.
10. Operator is bolted and doweled to prevent radial movement and subsequent loss of seating torque.
11. Body counterbore and seat bolting arranged elliptically to ensure equal support, gasket land and gasket loading all around the elliptical edge of the metal body seat.
12. Inboard and outboard thrust mechanisms prevent decentralizing of disc, even under high temperature and line pressure.
13. Bi-directional bubble tight shut off.
14. Inherently fire-safe by design.
15. Zero seat/seal friction.
16. Low torques.
17. Extended service life.
18. Excellent flow and throttling characteristics covering services from cryogenic to high temperature.
19. Rotary stem movement and packing materials provide excellent control of fugitive Emissions.