Do You Really Know the Cast Trunnion Ball Valve
Basic Information on Products
Products : Cast Trunnion Ball Valve
Size: 10 Inch
Pressure : 150#
Connection: RF
Operation : Gear Box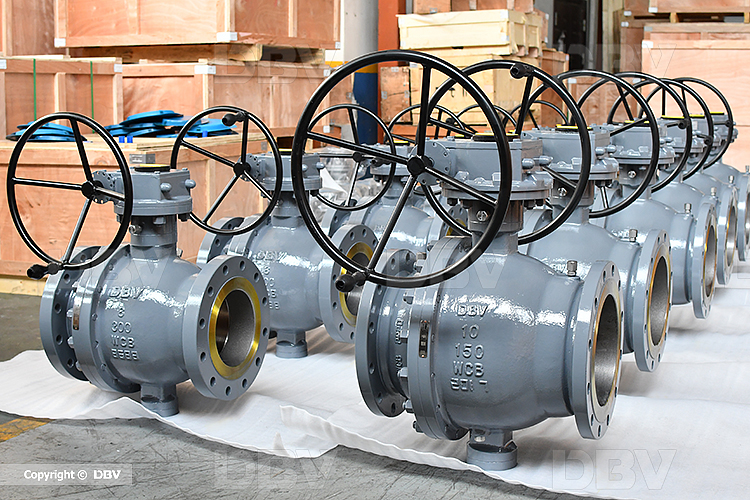 The trunnion mouted ball valve has construction and features of trunnion ball valve.
Ugent Grease Injection Device
According to customers' requirment, the trunnion ball valves made by company are provided with devices for urgentgrease injection, which are on both the stem and seat for the trunnion ball valves of DN>150mm, and in the body cavity for the valve of DN<125MM. When the Oring of the stem or the body seat ring is damaged due to accident, the medium leakage between body and stem can be prevented by injecting the sealing grease through the device.
2. Blow-Out Proof Stem
Blow-out proof structure is provited with the stem, which is positioned by the up-end cap and screw, being guatanteed not to be blown-out by the medium even if at abnormal risen pressure in the cavity.
3. Fire Safe Design
With the valve heated in a fire application, the nonmetal material parts such as seat sealing ring of PTFE, O-ring for the stem, and sealing gasket for body and bonnet, might be demaed due to high temperature.Dbv's special design of auxiliary metal to metal or the graphite seal is provited for the trunnion ball valve to effectively prevent both internal and external leakage of the valve. As required by customers, DBV's fire safe design for the trunnion ball valve meets the requirments of API 607, API 6FA, BS 6755 and JB/T 6899/